About visits
A visit to the "Money World" is subject to a number of precise requirements arising from the strict security measures at Latvijas Banka and the concept underlying the creation of the "Money World".
In order to avoid unwelcome incidents and misunderstandings, it is essential to familiarise yourself with these requirements prior to registration for a visit and arrival at Latvijas Banka.
Please do not visit the Bank of Latvia Knowledge Centre if you or someone in your group has symptoms of a respiratory infectious disease, certain self-isolation, home quarantine or strict isolation. Persons with signs of respiratory infectious disease may be denied entry. If the epidemiological situation changes, your visit may be cancelled with prior notice.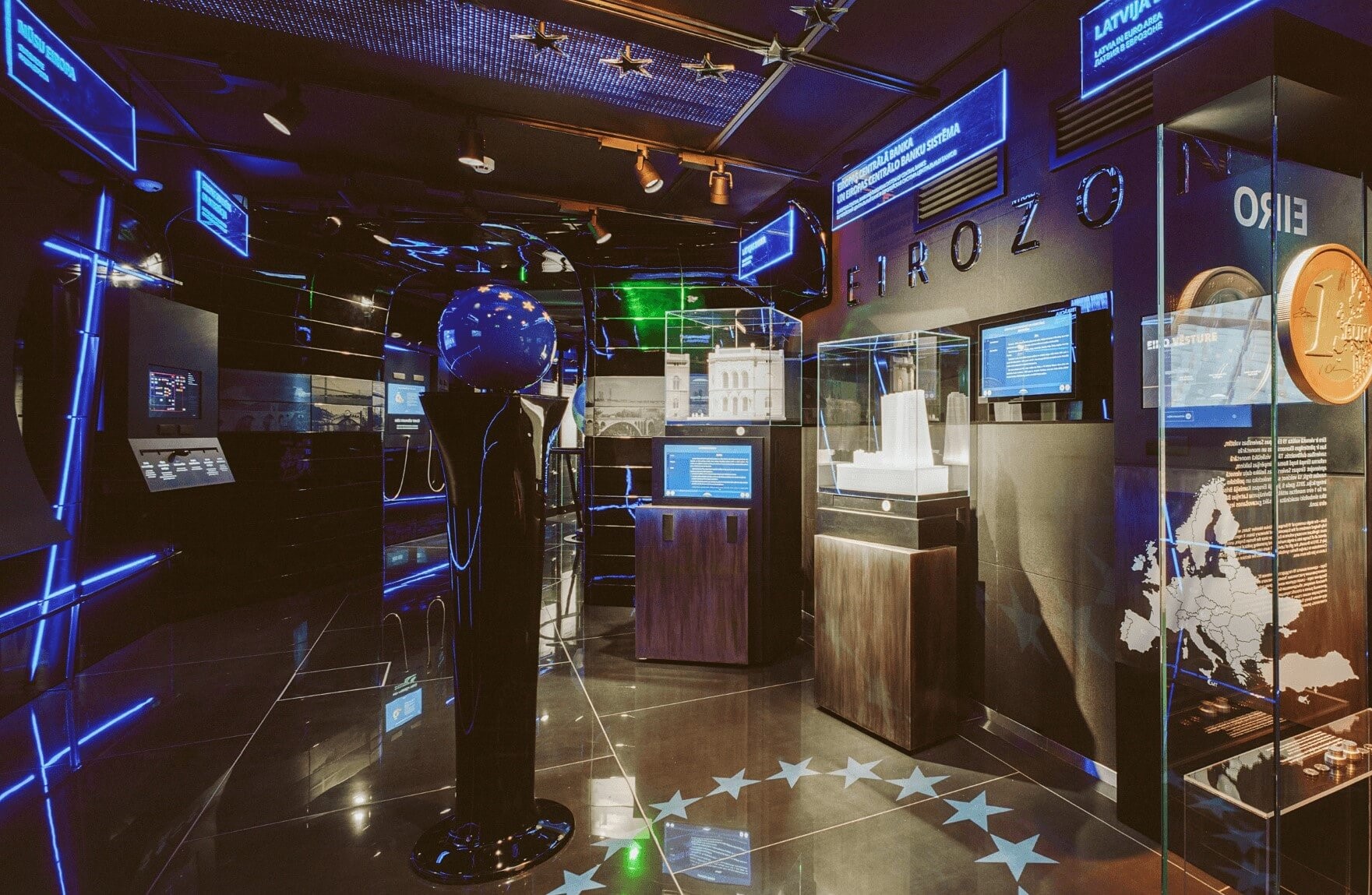 Regulations
| | |
| --- | --- |
| | Visits to the "Money World" are organised in groups or individually on Tuesdays, Wednesdays and Thursdays.  |
| | Tours start at 9.30, 12.30 and 15.00. |
| | Group visits (starting from 10 people; e.g. a school class) or individual visits (less than 10 people) can be requested. In case of an individual visit, the group will be made up of the respective number of individual visitors. |
| | The maximum duration of a visit to the "Money World" is two hours. |
| | The costs of the visits are covered by Latvijas Banka; the tour is free of charge for visitors. |
| | The "Money World" can be accessed through the main entrance of Latvijas Banka at K. Valdemāra iela 2A, Riga, (from Pils laukums); visitors' badges should be obtained in the lobby. In order to receive a badge you are required to present a personal identification document (with a photo). |
| | Only small bags (e.g. handbags) are allowed on visits to the "Money Word" which shall remain with visitors throughout their visit to Latvijas Banka. You are kindly asked to leave any large size bags or other items in the cloakroom. Security officers of Latvijas Banka have the right to check visitors' personal belongings with their prior consent. |
The precautionary measures when visiting the Knowledge Centre
Taking into account the epidemiological situation related to the spread of the novel coronavirus disease COVID-19 and the recommendations of the Latvian Centre for Disease Prevention and Control, we inform about the precautionary measures when visiting the Bank of Latvia's Knowledge Centre.
1. Please do not visit the Knowledge Centre with signs of acute respiratory infection (cough, fever, sore throat). In case of such signs, the visit may be refused.
2. It is not allowed to visit the Knowledge Centre for persons who have to observe self-isolation or quarantine, including those returning from abroad, as well as persons who have been in contact with Covid-19 patients or contact persons (the person who applied for a visit is responsible for compliance with such requirements).
3. Visitors to the Knowledge Centre must wear face masks issued by the Bank of Latvia, disinfect their hands, both upon arrival at the Bank of Latvia and when starting the visit to the Knowledge Centre, as well as other precautions.
In addition, we would like to inform you that in response to changes in the epidemiological situation, incl. national restrictions, additional precautions may be taken or the visit may, with a notice, be cancelled (including a previously approved visit).
Getting there
Public transport
Stop "Latvijas Nacionālais teātris"
| | |
| --- | --- |
| Tram: | 5, 7, 9, 11 |
| Trolleybus: | 5, 12, 25 |
| Bus: | 13, 30, 37, 41, 53, 57 |
Register for a visit
Express your interest in visiting the "Money World" and register electronically.  
Is only a fax machine available to you? Latvijas Banka's fax number: +371 67022711.
For additional information on the "Money World", please call: +371 67022297.
Send inquiries and notify us of any changes in the composition of the group by e-mail:
naudas.pasaule[at]bank.lv